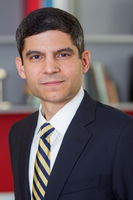 Presented by 
David J. Odeh
SE (CA, IL), PE, SECB, F. SEI, F.ASCE
Past President, Structural Engineering Institute of ASCE (2015-2016)
Principal, Odeh Engineers, Inc.
**Receive 1.0 Professional Development Hours**
Topic Description:
Structural engineering has become a vitally important and rapidly evolving profession.  Our work touches everything from ordinary buildings and infrastructure, which people interact with every day, to the most challenging and inspiring works of construction. At the same time, the pace of change in the global economy demands all engineers exhibit near constant innovation and adaptability to maintain competitiveness and relevance. To keep structural engineers at the vanguard  of the design and construction industry, change will be necessary in both the way we practice and the way we educate and train our students and interns.
This presentation will begin with a report from the "front lines" of structural engineering practice. We will be exploring the latest methods of project execution, the growing dominance of computer software in the execution of technical work, and illustration of how the most successful structural engineers have become leaders in their fields.  Next, we will look at the defining challenges for future engineers entering the industry, including the competitive pressures of globalization, the need for new materials, and necessity of creative design solutions to ever more complex structures. Finally, we will review initiatives of the Structural Engineering Institute of ASCE to prepare our industry for a future of leadership and innovation and how our members can get involved to make the vision a reality.
Presenter Bio:
David Odeh is a Principal at Odeh Engineers, Inc., a leading structural engineering consulting firm based in Providence, Rhode Island, 
with projects throughout the United States and international recognition for its innovative use of technology. 
David has over 20-years of experience in the design and analysis of building structures with particular emphasis in the development and application of digital design tools for structural engineering practice. 
David served as President of the Structural Engineering Institute of ASCE for 2015-2016 and has served on its Board of Governors since 2012.  He is a Fellow of SEI and of ASCE. 
David has also served on the adjunct faculty of the Brown University School of Engineering in Providence for 15 years and has been an invited lecturer at numerous other colleges and universities.  He has published numerous  articles in engineering conference proceedings and journals, including Structure magazine and Modern Steel Construction.  David was an invited speaker  at the 2015 ASCE National Convention in New York and at the 2015 Civil Engineering Triennial at the Institution of Civil Engineers in London.
Evening Schedule:

Event Date: Wednesday, February 8th  

Social Hour: 6-7:00pm

Dinner in the ballroom: 7:00pm

Announcements and Guest Speaker beginning at 7:45pm




ASCE Prices:

ASCE Members: $45

ASCE Non-Members: $60

Guests: $60

Students and Government Employees: $30




Event Location:

The Engineers Society Of Baltimore (ESB)

Garrett-Jacobs Mansion

11 West Mount Vernon Place

Baltimore, Maryland 21201