OMER W. BLODGETT, WELDING GURU, DIES AT 99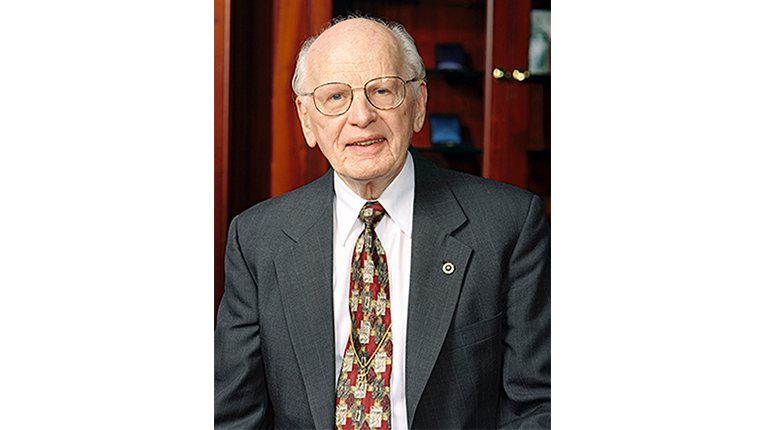 Omer W. Blodgett, who died on January 11 at the age of 99, lived and breathed welding. Throughout his long career, his expertise and passion influenced countless welders and engineers around the world.
"If we didn't have welding today, I think the world would come to a grinding halt," he once said.
Omer was born in Duluth, Minn., in 1917, and grew up on the shores of Lake Superior where the Blodgett family had a fleet of lake vessels in the era of steam tugs and barges with sails. Like many who enter the profession, he came into welding via the family business, where he worked as a welder throughout high school and reputedly struck his first arc at the age of 10. In fact, his family actually lived on the boats during the colder months, when they weren't in service, so welding was more than just a profession; it was a household chore. Repairs such as patching the boiler were an ongoing occurrence. Omer's father even purchased a welding machine the year Omer was born to save on labor costs.
Not surprisingly, the Great Depression was especially hard on the family. "When you work for your father, you turn your paycheck back to the family to keep food on the table," recalled Omer in a 2011 interview with AISC president Charlie Carter.
Omer attended the University of Minnesota, where he earned degrees in metallurgical and mechanical engineering. After graduating from college, he went to work for Globe Shipbuilding Company, where he refined his skills, learning firsthand how to resolve welding issues like distortion and cracking. There, during World War II, he supervised 400 welders who fabricated 29 all-welded oceangoing ships for the Federal Maritime Commission. In 1945, he met James F. Lincoln, a man who would not only become a lifelong friend but who also encouraged him to come to work for Lincoln Electric.
Omer started with the company that year in a sales position, which he later described as highly educational. While he knew welding from his own experience, this role gave him insight on how others used it. In 1954, he became a design consultant for the company and also worked as a mechanical engineer. By the time he stopped working for Lincoln full-time in 2009, he'd spent more than six decades with the company.
"I couldn't work for any other company, I really couldn't," Omer recalled in his interview with Carter. "I admired Mr. Lincoln. I lost a friend when he died."
While his expertise and longevity are certainly what has helped make Omer a household name in the world of welding and in the construction in general, it was his kind spirit and generosity—as well as his drive to encourage, mentor and bring out the best in others—that many who were close to him acknowledged as his most admirable traits.
"Omer is a steel industry hero, and his influence on steel design and construction is incalculable," commented Carter. "I personally appreciate and regularly remember things he said as he helped me: 'Always remember that when a change is needed, the codes are the last to hear about it… Design with your head, not your heart.... When you're trying to solve a problem, walk to the other drinking fountain further down the hall and take the time to think about it more.' He also told me that the person you are is more important than what you've done. Certainly, Omer lived that high ideal in his own life."
In 1977, at the direction of Lincoln Electric, Omer started to look for an understudy and successor. During a visit to LeTourneau College, he discovered Duane Miller, now Lincoln Electric's manager of engineering services, who would become his protégé. Duane was asked to speak at Omer's funeral and summarized his mentor's attributes in three categories: an exceptional engineer, a tremendous teacher and a committed Christian.
"The awards Mr. Blodgett received during his career speak to his engineering capability," said Miller. "As a teacher, he had a passion not only for the content of what he taught but also for those who he was teaching; he really wanted others to learn. In his everyday living, he was a committed Christian. People described him with words like friendly, kind, considerate, honest, caring and humble—all outgrowths of his Christian faith."
Omer understood the importance of the codes and how they represented constant improvement. In his father's time, he noted, codes and materials didn't change, but he began to embrace the fact that change would become a constant in welding and construction, and it was crucial to anticipate it and drive it for the better.
He was a longtime member and contributor to a several professional organizations, including the AWS D1 Structural Welding Committee, the AISC Committee on Specifications and the Welding Research Council (WRC) Task Group on Beam-to-Column Connections. AWS recognized his contributions in 1962, 1973, 1980 and 1983. LeTourneau University presented him with an honorary doctor of science degree. He was recognized as one of the top 125 engineers of the past 125 years by Engineering News-Record in 1999. And he even earned the triple crown of AISC awards: the T.R. Higgins Lectureship Award in 1983, the first Engineering Luminary Award in 1997 (for advancing the art and science of steel construction) and the Lifetime Achievement Award in 1999.
Omer was preceded in death by his wife, Dorothy. He is the father of Robert (Linda), grandfather of Laura, Andrew and Mark, brother of the late John (Ida) and Ana Joslyn (Jay) and uncle of many.
An expanded version of this article on Omer's legacy will appear in our March issue. For a taste of Omer's welding genius as well as his life story and general thoughts, see "Blodgett's Treasures" in our February 2013 issue and listen to Charlie Carter's 2011 interview with Omer at www.aisc.org/podcasts (it's Episode 9).